Tis the season to be jolly. We're totally into that.
But tis NOT the season to eat and drink your feelings.
"What's that?" you say. "Feelings triggered by the holidays? Moi?"
'Fraid so, friend, assuming you're part of the human race.
But fear not, we've got some rad tips to dodge those surprise gift packs of loneliness, frustration, anger, sadness, and the general sense that everybody else's holidays are shinier and happier than yours.
First, let's pause for a little party game of "do as I say, not as I do."
Damn those shiny candy wrappers, they get me every year. You know, that perfect looking bonbon, that melt-in-your-mouth chocolate. I'm just sure it'll make me feel less awkward as I stand here by myself at my husband's company Christmas party. I'm going to have one, or maybe five. But I strongly advise you against this.
And, oh god, here comes the boss. What can save me from this awkward conversation? Wait, I've got it! A glass of wine, possibly three. But, seriously, try not to drink too much. 
Not to mention, it's a Secret Santa party and I had to buy a gift for someone I know nothing about, and maybe they'll hate it. But, hey, relax, don't sweat the small stuff.
What do you mean, the chocolates are ALL GONE!!?? More wine then.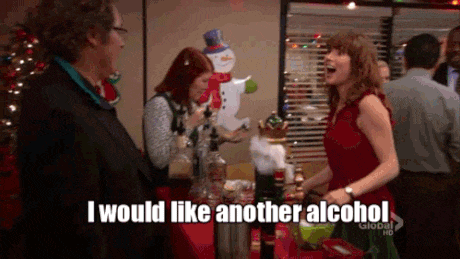 Ugh, feelings. They're tough, we get that.
Here are our favourite tips for surviving – even thriving in – nerve-wracking festive situations, jaw-clenching family get-togethers, and any other social occasions where you're pretty sure everyone but you is utterly at ease.
1.    Eat before you go.
Seriously, don't show up hungry. You'll just end up vacuuming up crap from the buffet table that you'll regret within the hour. And imagine your disappointment when someone finally talks to you and all they say is, "um, you have a little something in your teeth." Show up well fed and you'll have access to your brain, which will help you pick the right things to eat, in amounts that won't make you sorry later.
2.    Drink up.
We love the Emotional Balance drink from Dao Labs. It's calming liquid gold. Grab a pack and have one before you go out. Or, better yet, bring it along in a travel mug and mingle away in your fully hydrated, blissed-out, booze-free state, happy to talk to anyone. 
3.    Flex your NO muscle.
If going out makes you feel bite-your-nails-off anxious, here's a news flash: You don't have to go. In our world, NO is a complete sentence. You don't need an excuse, just a wholehearted, I-love-myself-this-much NO. And if it's FOMO that makes you say yes (ahem, Tara), well, what price are you willing to pay for the illusion of not missing out?
4.    Set a curfew.
Tell your hosts you will turn into a pumpkin if you don't leave by a certain time. No one wants a pumpkin in the middle of their party (Halloween is over, people). Most people get it when you value sleep over yet more food, wine, and, lord love a duck, MORE chocolate.
So, don't eat or drink your feelings, 'kay? We want you to REALLY savour the holidays, not stuff your face and emotions. 
By all means, have at 'er with the food and drink that connects you with meaningful traditions, friends, and family—the goodies that truly make you GLOW.
Shine on, and happy holidays!
YOUR TURN.
What's your #1 trick for kind-hearted self-care amidst holiday stress and overindulgence?
Have you ever heard of DAO labs? They've created these delightful healing drinks that pair perfectly with our life-changing Yin Yang Diets. More to come as we show you how to navigate the new year with food as medicine.
psst! Want 20% off? Grab a box of calming liquid gold AKA Emotional Balance from Dao Labs today. Coupon code good until Dec. 27/19  code: YINYANG
xo
Sara & Tara